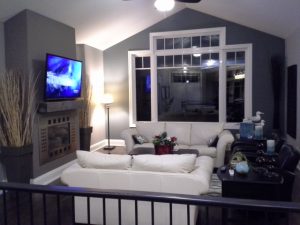 Hiring a professional painter to paint the interior of your home is a wise decision. There are many reasons for house painting across Simcoe County in places like Barrie and Innisfil. Your time is valuable and that is often reason enough to hire a professional as opposed to doing the job yourself. Professional painters simply have the right tools and the understanding of how they can be used effectively. Additionally, most established painters are insured, so in the event of an accident in your home, they are covered by their own means. This adds peace of mind for any home owner. All professional painters who focus on interior painting guarantee their work; if you're not happy, they will honour the deal and ensure the job meets your expectations and their contractual obligations. Professional painters have the skills and knowledge from choosing colours to prep work to the final completion of the job.
Interior painting of your home should occur approximately every 5 to 7 years. Professional painters choose durable, quality paint that will transform your home into a place that looks fresh and new. A simple coat of paint will give any room in your home a face lift. A fresh, new look will make any home owner feel better and enjoy their living experience even more.
Hiring a professional painter will make interior painting and home painting risk free and easy. Professionals work proficiently to complete the job to your satisfaction. They bring the tools and do all the prep work, as you sit back to enjoy the outcome.